Article: Nibbles with Mānuka Honey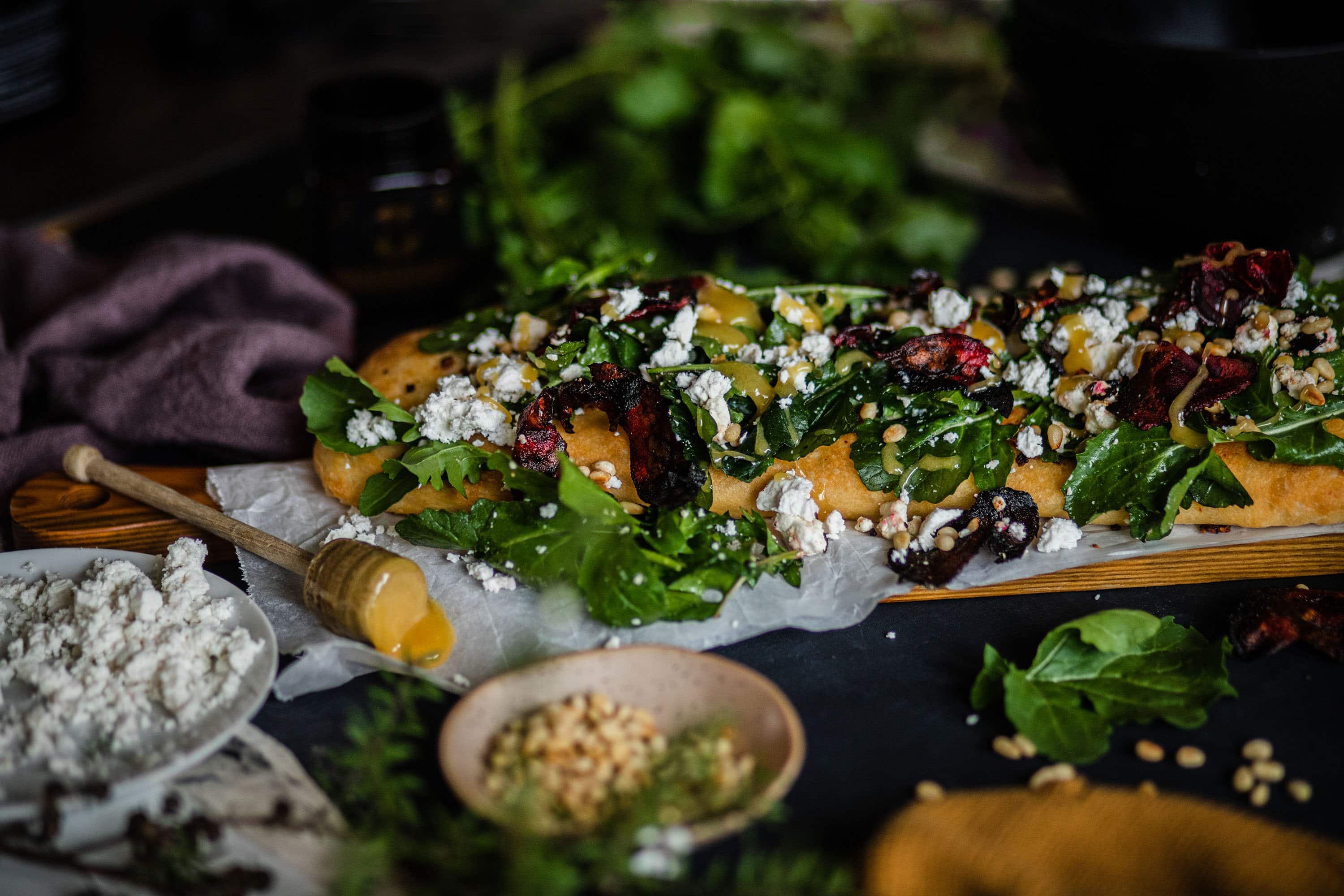 Nibbles with Mānuka Honey
Flatbread with chèvre, pine nuts and honey drizzle
Product
Zealandia Honey ® Silver | MGO 250+
This drizzle uses a packs a real flavour punch and ties in nicely with the tangy and bold flavours of the flatbread.
Meal info
Serves 4 as a starter. 25 minute cook and prep time.
Ingredients
For the beetroot:
400g beetroot, sliced
1 tbsp olive oil (or oil spray)
Pinch of salt
For the flatbread:
1-2 large flatbreads
A few handfuls of rocket
200g chèvre
60g pine nuts
2 tbsp Zealandia Honey ® Silver | MGO 250+. 
Method
Step 1:
Make the beetroot crisps
Pre-heat the oven to 200°C, preferably fan-assisted, and line an oven tray with baking paper.
For the crisps, peel and finely slice the beetroot. The slices need to be paper thin, so a mandolin or cheese slicer will come in handy. Place in a bowl with the oil and salt; use your hands to ensure all the slices are coated. Lay out the slices in a single layer on the lined oven tray (you may need to do this in batches). Bake in the oven for 10-12 minutes, turning halfway through. Once crispy, remove from the oven and cool on a rack over a kitchen towel. The crisps might not all be cooked at once, so remove them in batches to avoid burning. 
Step 2:
Make the flatbread
Heat the bread in the oven once the beetroot crisps are done. Divide the chèvre, rocket, beetroot crisps and pine nuts onto the breads. Drizzle generously with Zealandia Honey ® Silver | MGO 250+.
To serve
Cut the flatbread into wedges or slices, share and enjoy!
Thai herb and honey sauce with skewers Product Zealandia Honey ® Silver | MGO 250+ The floral and bold flavours stand up to the punchy, fragrant herbs and sauces. Meal info Serves 4-6 as a dippin...
Read more