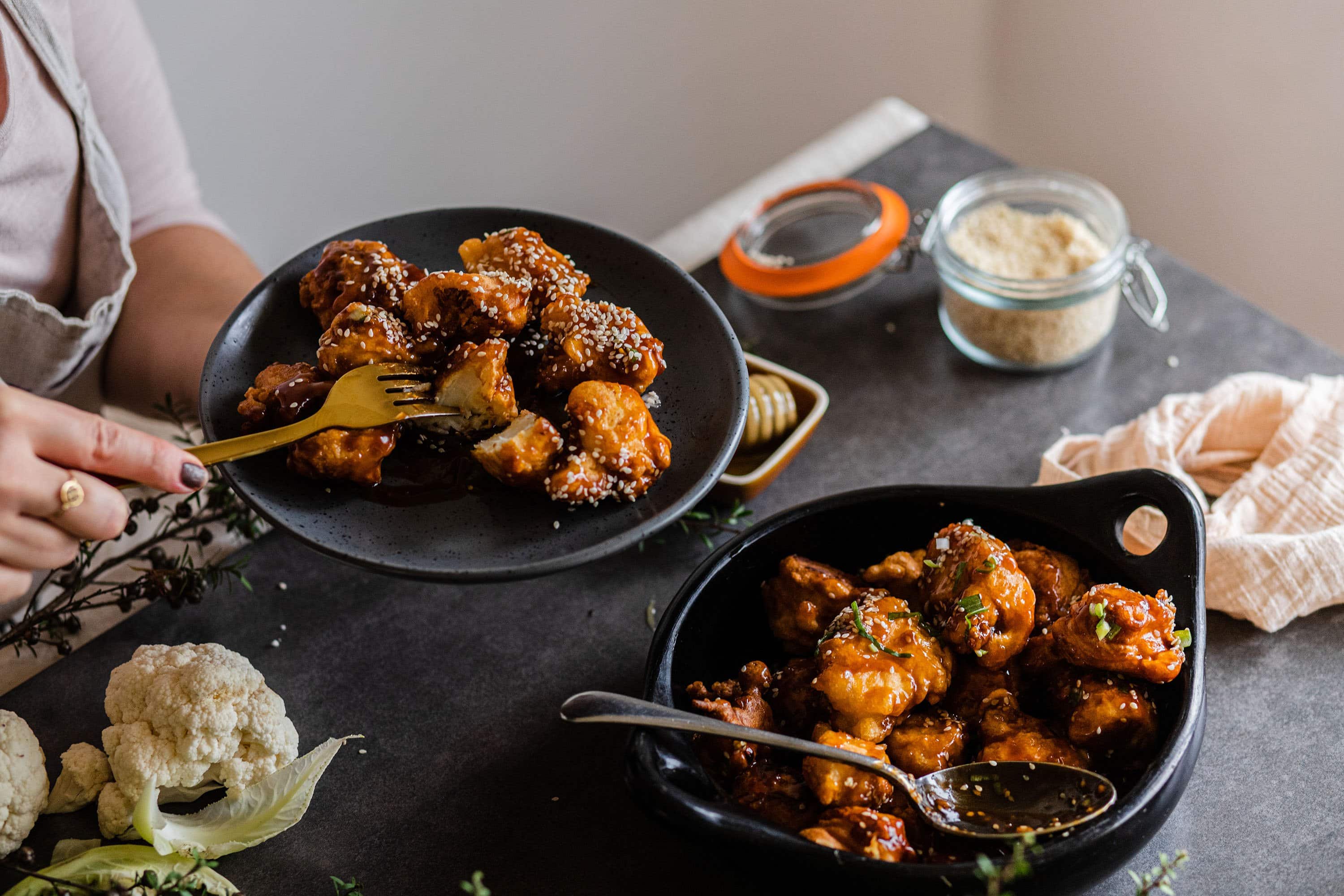 Tso Cauliflower in sticky honey sauce
General Tso cauliflower served in sticky honey sauce
Product
As the honey is used in large amounts and is heated a little in the sauce, the kanuka is a good choice for this dish.
Meal info
Serves 4-6 as a main with rice. Dairy free. 35 mins prep and cook time.
A note from Emma: I absolutely adore this vegetarian version of a classic takeaway General Tso Chicken. I love making it for guests at dinner parties and hearing how much they're enjoying "the chicken".
Ingredients
For the cauliflower:
½ head cauliflower, chopped into 1 cm florets
1 cup flour
⅔ cup cornflour
1 ½ tsp baking powder
1-2 tsp salt
4 eggs
¼ - ½ cup water
1 cup rice bran oil for frying
For the sauce:
1 tbsp sesame oil
3 cloves garlic, crushed
1-2 cm ginger, grated
½ cup water
1 tbsp cornflour
½ cup light soy sauce
¼ cup rice wine vinegar
2 tbsp sugar
2 tbsp tomato paste or tomato ketchup
2-3 tbsp of Zealandia Honey ® Kānuka
To serve
Cooked jasmine rice
Sesame seeds
Spring onion, finely chopped
Method
Step 1:
Prep the cauliflower and batter
Cut the cauliflower into 1 cm florets.
For the batter, combine all the ingredients in a large bowl (apart from the oil) - bear in mind that you will be adding the cauliflower to the bowl later, so make sure there is room for it. Whisk the batter until there are no lumps - it should be fairly thick and cling to the cauliflower, so I tend to add the water last and do this slowly until the consistency is spot on.
Step 2:
Prep the sauce
Combine the ingredients, apart from the Zealandia Honey ® Kānuka, for the sauce in a small saucepan. Set aside.
Step 3:
Cook the cauliflower
Heat 2-3 cm of oil in a frying pan over a medium-high heat.
Drop a handful of cauliflower into the batter and stir to coat. Test that the oil is hot enough by dropping a teaspoon of batter into the pan. It should sizzle and puff up, but not burn. Once the oil is up to temperature, add the battered cauliflower, one at a time, using tongs. Shake off excess batter into the bowl. Fry for 4-5 minutes, turning once or twice, unil golden brown and crispy. While the first batch of cauliflower is cooking, place a kitchen towel underneath a wire rack. Drain the cooked cauliflower on the wire rack while cooking the remaining cauliflower in batches.
Step 4:
Cook the sauce
Once the cauliflower is underway, place the sauce over a medium-low heat and bring to a gentle simmer, stirring regularly to ensure the cornflour dissolves. Simmer gently for 4-5 minutes, or until all the cauliflower is cooked. Remove from the heat and turn through the Zealandia Honey ® Kānuka. Taste and season with salt, more honey or a dash of lime, as desired.
Step 5:
Combine the cauliflower and sauce
Once all the cauliflower is cooked and drained, toss with the sauce - just enough to cover. Serve immediately.
To serve
Serve saucy cauliflower on a bed of jasmine rice with a sprinkle of chopped spring onion and sesame seeds.
Salad with honey shallot dressing
Kale and pumpkin salad with honey-shallot dressing Product Zealandia Honey ® Bronze | MGO 100+ We get a good dose of manuka goodness in this dressing. The creamy texture and floral hints couple per...
Read more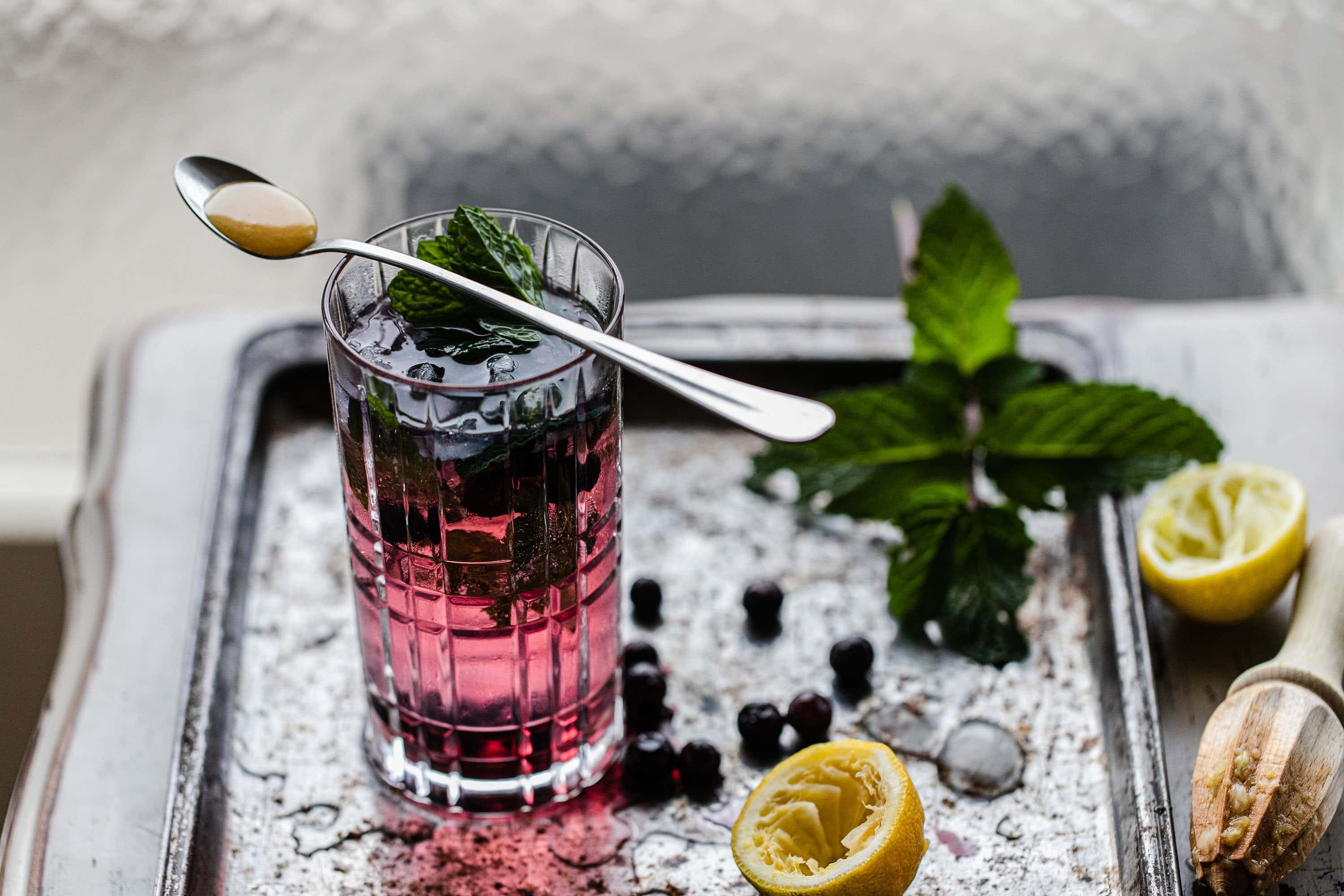 Blueberry and honey gin mojitos with fresh mint Product Zealandia Honey® Kānuka The Kānuka honey is a fairly runny honey which will mix well with the soda water and crushed ice. A note from Emma: Y...
Read more