Salad with honey shallot dressing
Kale and pumpkin salad with honey-shallot dressing
Product
Zealandia Honey ® Bronze | MGO 100+
We get a good dose of manuka goodness in this dressing. The creamy texture and floral hints couple perfectly with the salty and tangy elements of the salad.
Meal info
Serves 4-6 as a side. Pairs well with chicken or lamb. Gluten free. 30 mins prep and cook time.
Note: For a sweeter and milder red onion, place the sliced onion into white vinegar and a teaspoon of honey for 30 mins before serving and drain well before eating.
Ingredients
For the pumpkin:
1 butternut pumpkin, cut into wedges
1 tbsp olive oil
Pinch of cinnamon
Pinch of sea salt
For the dressing:
1 small shallot, diced
2 tbsp lemon juice
3 tbsp Zealandia Honey ® Bronze | MGO 100+
4 tbsp olive oil (mild variety)
Salt and pepper to taste
For the salad:
1 punnet cherry tomatoes, halved
300g curly kale, chopped
1 cucumber, diced
2 avocados, diced
¼ red onion, sliced finely
60g Pecan nuts
Method
Step 1:
Roast the pumpkin
Pre-heat the oven to 200°C, preferably fan-assisted, and line an oven tray with baking paper.
Cut the pumpkin into wedges lengthways, scooping out the seeds. Toss in a bowl with oil, cinnamon and salt, then spread out on the lined oven tray. Pop in the oven and bake for 20-25 minutes.
Step 2:
Make the dressing
Chop the shallot very finely. Combine in a bowl or bottle with lemon juice and Zealandia 100+ and olive oil. Season with salt and pepper to taste. Set aside at room temperature until ready to serve.
Step 3:
Make the salad
Halve cherry tomatoes. De-stalk the kale and chop the leaves finely. Cut  cucumber into 1 cm dice. Halve avocados and remove stone, then cut the flesh into 2 cm dice while still in the skin, then scoop the flesh out. Slice the onion finely. Roughly chop the pecans.
To serve
Lay out the kale and roast pumpkin on a platter. Scatter, tomatoes, cucumber, avocado and sliced onion atop the kale. Sprinkle over the pecans. Give the dressing another stir or shake and drizzle over the meal, then enjoy immediately.
Thai herb and honey sauce with skewers Product Zealandia Honey ® Silver | MGO 250+ The floral and bold flavours stand up to the punchy, fragrant herbs and sauces. Meal info Serves 4-6 as a dippin...
Read more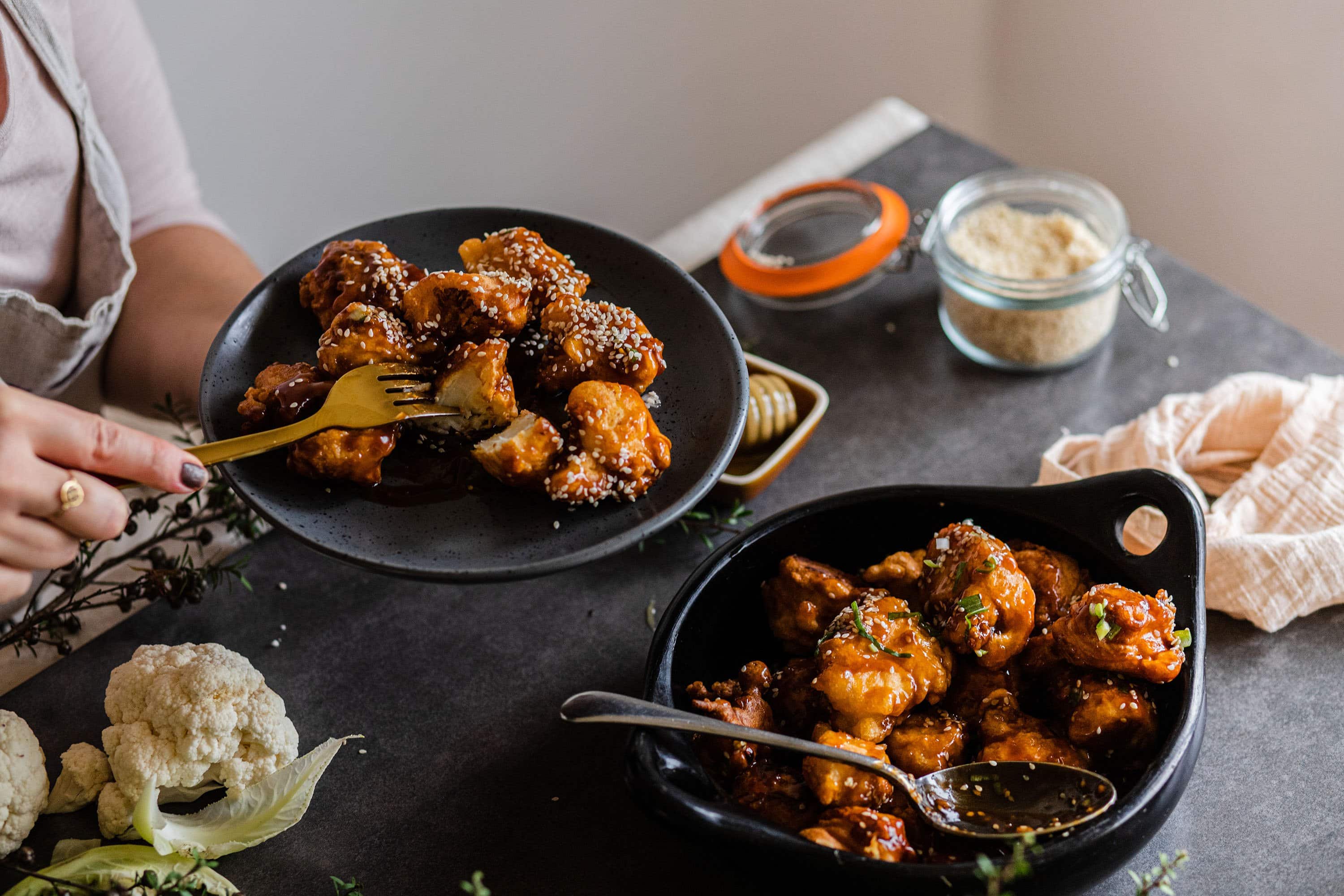 Tso Cauliflower in sticky honey sauce
General Tso cauliflower served in sticky honey sauce Product Zealandia Honey ® Kānuka As the honey is used in large amounts and is heated a little in the sauce, the kanuka is a good choice for this...
Read more