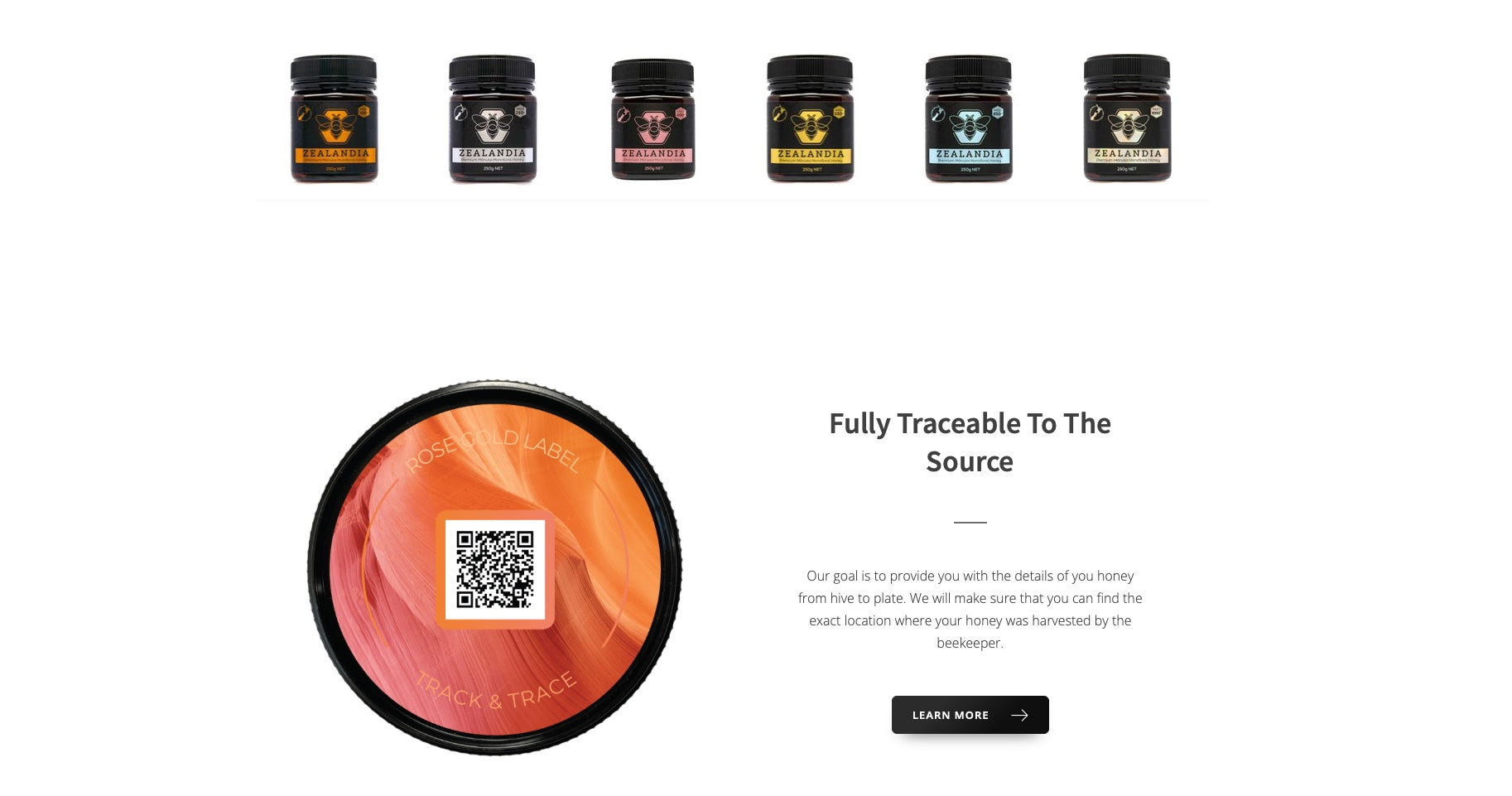 Zealandia's new traceability initiative
Why Zealandia's new traceability initiative is doubling down on proof of purity, potency, and authenticity
Each jar of Zealandia mānuka honey now has a unique QR code. Scan that code with your phone to access a raft of information guaranteeing the quality, purity, authenticity and potency of the jar of honey you're holding in your hand.
If you want to know if you've bought a jar of genuine New Zealand mānuka honey, when you scan the QR code on the lid, you will be able to see Zealandia's New Zealand Made certificate.
If you want to know more, you can explore a map of the region of NZ where your batch of honey comes from, learn more about that region, watch a video about Zealandia, and learn more about our sustainable packaging. Plus, you can check out pictures of Zealandia hives in the New Zealand bush, see our science team in action, and admire drool inducing product shots. Honey on fresh sourdough? Yes please.
Combating the great global honey fraud
So why are we investing in this new traceability technology? Our head of communications Sri Govindaraju explains. "People who buy our product pay a premium price for a premium product, and they want to know it's authentic. Unfortunately, honey is one of the most adulterated products in the world, so people have lost trust. Making our lab tests and certifications available is about giving our customers back the power, so they can trust that we deliver the quality mānuka honey they know and love."
But are Zealandia being over cautious? How widespread is honey fraud, and is it really having an impact on people's ability to trust honey producers?
In 2018-19 The Canadian Food Inspection Agency tested 240 samples of imported honey. 27% were adulterated with sugar syrup. In 2018 Australian scientists tested 100 samples of supermarket bought honey from Australia and 18 other countries. One in five samples was adulterated. In 2015 the European Commission studied 2,264 samples of honey and 14% were found to be adulterated. In 2009-2010 a honey laundering scandal broke in the US, when it was revealed honey from China contaminated with antibiotics was being shipped through other countries to hide its country of origin.
The Honey Authenticity Project is a coalition of international organisations researching honey fraud. Their research indicates one third of honey in international trade is adulterated. The most common fraud is adding sugar syrup to make real honey go further for less, but mislabelling geographic origin is also an issue, especially when it comes to highly desirable honeys like New Zealand mānuka honey. In 2014, British retail trade magazine, The Grocer, revealed widespread mislabelling of mānuka honey in the UK, with more of the product sold globally than was produced.
It was fraud like this that led to the New Zealand government stepping in to protect the New Zealand mānuka honey brand by implementing the first global standard and scientific definition for the honey.
All New Zealand honey labelled as mānuka must be tested before export to ensure it meets a minimum level of the active ingredients that give the honey its unique properties. A combination of five attributes, four chemicals and one DNA marker from mānuka pollen, are required to authenticate monofloral and multifloral mānuka honey. Lab test results must accompany export documents to prove the product's authenticity, and it is these lab tests we make available to you through our Track & Trace QR code.
A growing appetite for traceability
Our Track & Trace initiative is not just about proving the purity, potency, and authenticity of our honey. Soon we'll be able to track the journey of each jar from its hive in the New Zealand countryside to the country where you live, and you'll be able to follow that journey every step of the way. And we'll be able to check important things like the temperature the honey's stored and shipped at, to ensure your jar reaches you in perfect condition for delicious spooning or spreading.
We're not doing this because we love data (although we're scientists, so we do), but because you've asked us to. More and more people are demanding food traceability.
2019 research from FMI – the US Food Industry Association found 75% of the people they surveyed said they'd switch to a brand that provides in-depth product information beyond that on the label. In 2016 only 39% said the same. 86% of people surveyed also said that if food manufacturers or retailers provided access to easy-to-understand definitions for all ingredients, it would result in more trust. 80% said greater transparency leads to loyalty, and 54% said they'd be willing to pay more for products that offer high levels of transparency.
In other words, we're all becoming more aware of the importance of what's in our food and of the impact of what we buy. We're beginning to understand the hidden cost of every purchase we make, and we want to spend our money in ways that support our personal values.
Who's behind the Zealandia brand?
 Silvério Governo from Rfider, the company providing the smart supply chain tech powering Zealandia's new rich QR codes says. "Today, people want to know who's behind a brand, what their corporate and social responsibilities are, how they treat their staff and their suppliers, and how they're mitigating their environmental impact. Shoppers' unspoken question is, 'Am I proud to support this brand?' Rfider's technology isn't creating a desire for traceability, it's simply responding to that growing demand."
That's why Zealandia is providing you with access to curated information to help you trust not only the quality of our honey, but also us as an organisation, our ethics and our commitment to our people and our place on this planet.
Sri agrees. "We want you to feel connected, to see the place where we harvest your honey, meet your beekeeper and see their face. We want you to understand the people and the land that our beautiful honey comes from. We believe Zealandia makes some of the finest honey in the world, but we don't expect you to just take our word for it, We know we have to go the extra mile so you can believe."
Zealandia Chief Strategy Officer Robin de Geus expands, "There are a lot of horror stories in the world of mānuka honey. So, people rightly have questions about quality and provenance. We wanted to answer all those questions with one simple QR code. Soon our beekeepers will scan in each batch of honey as they harvest it in the field, and that's where the lifeline of each jar will begin. At Zealandia we're trying to create ripples in an industry that's been the same for over 50 years and we deliberately set the bar high out of pure passion for honey and for science."
To find out more about Zealandia's new Track & Trace initiative and explore a mānuka honey jar's QR code for yourself, visit our Track & Trace hub.
baking
Surprise #Lockdownbirthday Cake!
Let's eat cake! Celebrating a teen's birthday during the lockdown in New Zealand.  Pistachio cake with cream cheese, honey and saffron icing! Turned out be quite decadent. My 13 year old said, "I a...
Read more